2022 Wagoneer & Grand Wagoneer: Get Inspired, Go Further

Are you looking for a more luxurious off-roading experience? The 2022 Jeep Wagoneer and the 2022 Jeep Grand Wagoneer are impeccably designed, palatial three-row SUVs that can take you anywhere you want to go. These large, powerful, and adventure-ready Jeep vehicles embody the most recognizable features of the American landscape. Once seated behind the wheel, you can bring all of your friends and family to just about any place that you can imagine.
A New Design Language: Big Shoulders, Open Country, Grand Canyons
You love the look and feel of the current Jeep SUV lineup, but there's nothing wrong with taking the best and making it better. The Wagoneer and the Grand Wagoneer build upon the clean and practical lines of the current Jeep range in order to deliver a more luxurious touring experience, one that will inspire you to think a little bigger! Here's what you should know:
Both the Wagoneer and the Grand Wagoneer can seat up to seven or eight passengers, depending on configuration.
When you're out in Joliet and Naperville, these SUVs will make an unforgettable impression with 20- or 22-inch wheels, a bold seven-panel fascia, and striking, unmistakable tail lights.
For the best experience, opt for the available Tri-Pane Panoramic Sunroof and take in the skies while you ride.
A New Standard in Quality: Features & Amenities
The Wagoneer is luxurious, but the Grand Wagoneer takes things to a whole new level. With that said, even though each model offers a unique range of standard and available features, neither SUV will leave you or your passengers wanting more. Check out some of the highlights before you see your favorite model in person:
Grand Wagoneer offers up to 75 inches of full-color display area, running along the entire dash.
Both models offer Quadra-Lift® Air Suspension with Semi-Active Damping in order to deliver superior ride quality on Yorkville highways and backroads alike.
Ride in style with interior options like Premium Nappa Leather and Premium Quilted Palermo Leather.
Enjoy up to 19 speakers in the Wagoneer, or up to 23 McIntosh Stereo speakers in the Grand Wagoneer.
Both models offer Head-Up Display technology and Active Driving Assist technology to help you relax and enjoy the road.
What's more, both of these Jeep SUVs are more than capable of moving you forward when the going gets tough. Don't be afraid to venture off the beaten path!
Wagoneer & Grand Wagoneer: Which SUV is Right for You?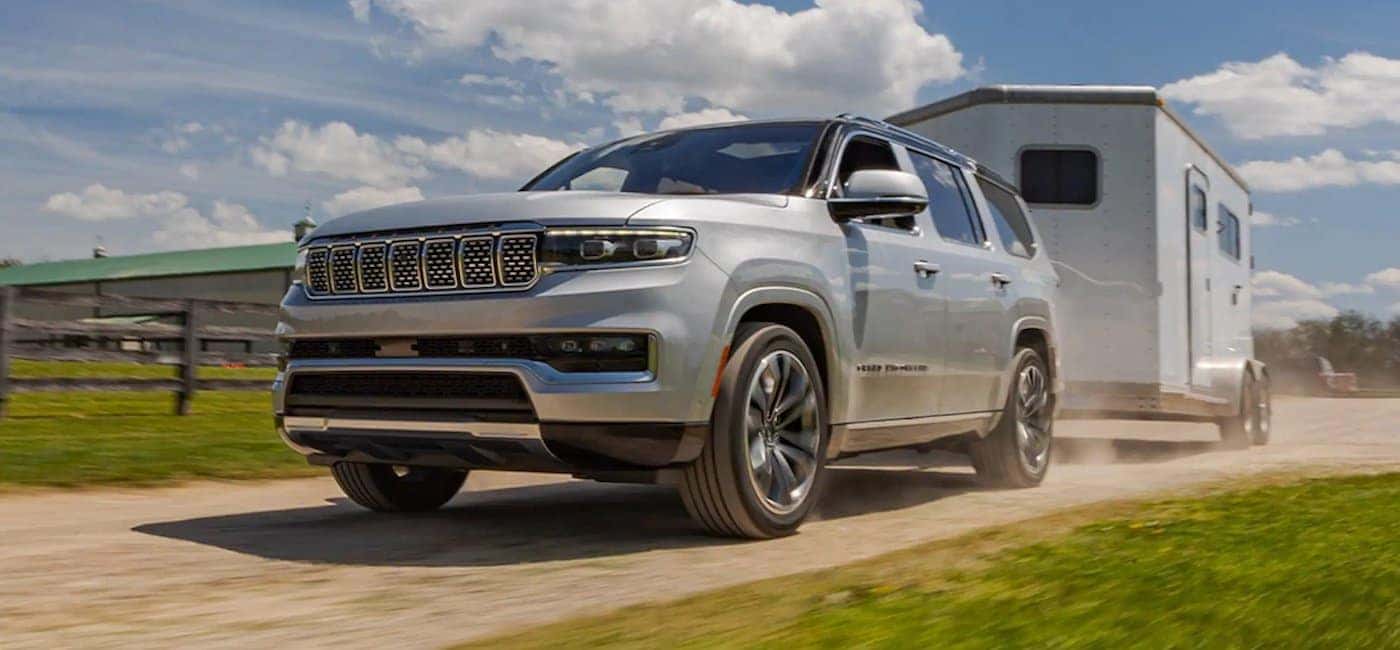 The Wagoneer and the Grand Wagoneer both have a lot to offer, but there are some important differences between the two SUVs. Here's what you should keep in mind:
Both models feature a body-on-frame design. However, they utilize unique suspension systems and 4WD technologies.
The Wagoneer comes equipped with a 5.7L V8, and it outputs 392 hp and 404 lb-ft of torque. The Grand Wagoneer goes even further with a 6.7L V8 that churns out 471 hp and 455 lb-ft of torque.
The Wagoneer is full of luxurious features, but the Grand Wagoneer delivers more display area, more luxurious leather upholsteries, and more technologies throughout the cabin. The latter SUV also features standard Quadra-Lift air suspension.
Start Your New Adventure Today
The Jeep Wagoneer release date is almost here, and even the Grand Wagoneer should reach our Shorewood dealership before the end of 2021. If you can't wait to get behind the wheel, reserve your Wagoneer or Grand Wagoneer today! We'll let you know as soon as your model is ready to pick up. While you're here, take a moment to value your trade-in and find out how much you could save!
Order Your Wagoneer at Tyson Motor Chrysler Jeep Dodge Ram